Thread lift is one of the most innovative and effective aesthetic interventions to gently lift sagging facial skin to produce a smoother, more youthful appearance and restore the youthful contours of the face. Thread lifting is the less invasive alternative to a face lift to rejuvenate the face without the risks and downtime associated with surgery. The treatment will not change the natural facial features, they will only be returned to their former, youthful position and the result may last up to 2 years. 
The following areas can be treated successfully:
The thread-lift procedure involves very fine surgical sutures being inserted in to the soft tissue of the face to lift and support sagging areas. Thin needles are used to apply thin skin-friendly, absorbent threads to a specific layer of the skin. There is an immediate firming effect as the threads support the sagging tissues. Besides the intervention initiates tissue regeneration process, stimulates collagen production, microcirculation, and other beneficial processes. This results a long-lasting skin firming effect, since the newly produced connective tissues continue to exist after the threads have been absorbed. The effect of the treatment lasts 1.5-2 years. In order to enhance the rejuvenating effect, thread lifting can be repeated as needed after at least 6 months. With further treatments, even fewer thread will be enough to achieve further spectacular skin rejuvenation.
Advantages:
Short healing time
Long lasting results and effects can last up to 2 years
Simple, secure treatment
Minimal pain
It can be effectively combined with other treatments:
Mesotherapy
PRP
Chemical exfoliation
Laser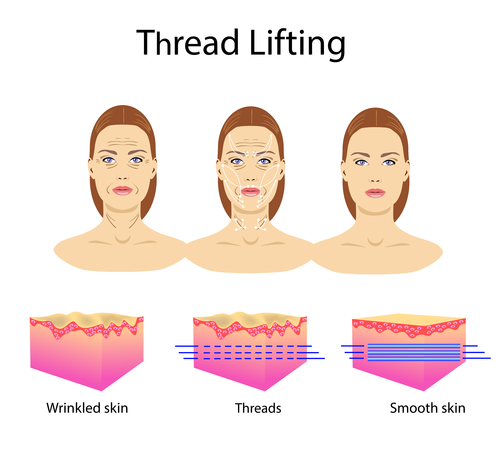 Before the treatment, by a personal consultation the number and type threads needed and regions to be treated are determined based on the individual needs and conditions. To soothe the pain we apply local anesthesia.
The procedure takes about 30-40 minutes and does not involve much discomfort or pain. You don't have to expect long recovery time, it takes a few days to heal. The effect of the treatment can last up to 2 years.
In the following days there may be some slight swelling, occasionally some bruising and minimal pain at the treated areas. Avoid extreme heat effects (sauna, solarium, sunbathing) and activities involve sweating, such as exercising, leaning and lifting heavy objects. Also avoid the use of different cosmetic products (except recommended by the treating doctor), makeup and facials.